Estimated Time to Read: 2 minute
All high end luxury sports cars stir from our imaginations, yet few people will ever be able to buy them. A lot of dream cars rarely draw in buyer inquiries.
The Lamborghini Gallardo costs around $209,900-$245,890. The V01o features 6 speed transmission, with a electrohydraulic conventional automated clutch, with a top speed of 200mph. In actual fact the Audi R8 is based on the Lamborghini Gallardo platform.
The Lamborghini Murcielago is a 4 wheel drive, which includes a Versace leather interior. Costing around $353,000-$450,000 with top speeds of 213mph.
The Daimler Chrysler revived the Maybach brand just over a decade ago after a German luxury nameplate of the 1920's. Costing somewhere in the region of $407,000-$506,500. The Type 62 Maybach shows speed, time and in the roof liner the outside temperature. The beauty also includes self-closing doors and two rear LCD screens and a fridge.
The Rolls Royce Phantom, this mean machine has a 6.75 litre, 48 valve V-12 engine from the make BMW, which accelerates to 100km/h, around 62mph in roughly 5.7 seconds. The ornament on the hood of the car is retractable so no chance of it being stolen. This stylish car is priced at $380,000-$450,000.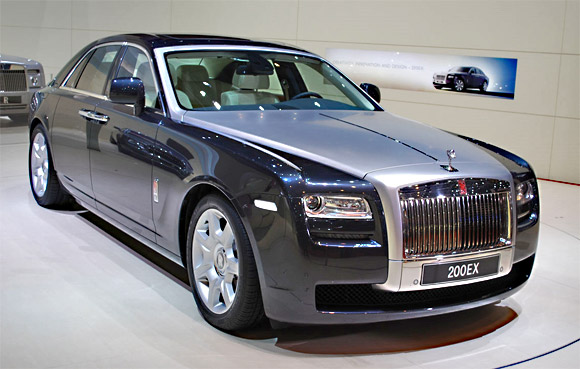 Rolls Royce Phantom Drophead Coupe, this is a sleek stylish car costing around $443,000-$484,060. The handmade convertible a yacht inspired with wood panelling and rear hinged doors, with an aluminium frame.
Aston Martin DBS. This James Bond favourite comes in at $286,500. This fantastic car has a 6 Litre V 12 engine in its current incarnation. The production car does not include space behind the driver's seat for a helmet like the movie version.
Every mans dream the Bently Continental GT touring car has 6 litre twin turbo W12 engine. The speed of this motor moves between 0 to 60mph in 4.3 seconds. This comes in at a lower cost of $182,800-$227,205.
Bentley Continental GTC, this GT convertible hits a whopping 190 mph with the top down! This beauty costs around $201,500-$244,805.
My personal favourite the Aston Martin V8 Vantage. Costs around $120,750-$133,750. This motor contains a 4.7 litre engine with a 6 speed semi-automatic transmission.
Rolls Royce Ghost. This luxury sedan shares some of the BMW 7 series parts. With a 6.6 litre twin turbo V 12 engine. Speeds from 0 to 60 mph in 4.7 seconds. This beast has a 8 speed automatic transmission.
All of these cars above all share one thing, they are everyone's dream to drive and possibly own, those that are lucky enough to own these cars are those of great wealth.
Sally Crisp writes on behalf of  Dream Car Hire UK.

Print This Page / Download PDF / Email This Page